Links Directory Script with an SEO Focus
Looking for the best links directory script? First released in 2002 and steadily enhanced ever since, WSN Links is a mature and powerful links directory with proven support you can rely on. It features google pageranks, link checking, reciprocal linking facilities and much more. Multilingual and highly extensible, it offers more than you could imagine in a links directory and the flexibility to make any other sort of directory.
"

WSN Links is extremely easy to install, maintain and upgrade. Administration is a breeze and with so many configuration options, you really can fine tune your links database so it doesn't look like every other directory. I'd highly recommend WSN Links to anyone who needs to keep a collection of links and doesn't want any hassle doing so.

"




Nigel Reed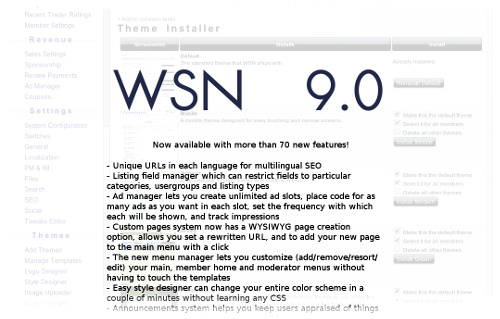 ---
Unlike most software, WSN Links is fully committed to growing with you. With over a decade of regular software releases and steady support as proof, you know WSN will be there for you down the road — no matter where the road takes you.
WSN Links 9.0.2 was released Monday, April 21, 2014 with these changes:
Fixed error message on editing categories.
Converted listing tools bar and footer menus to menu manager system.
"today's birthdays" switch now available for all scripts instead of just forum.
Added ability to rate themes on theme installer page.
If you've disabled automatic updates, click the upgrade link on the front page of your admin panel to get these patches.
---
Related PHP Web Scripts